I've mentioned elsewhere on this website that memory foam mattresses can get pretty costly, but you might still be surprised that you can end up paying thousands just for one mattress!
This is why I started these reviews in the first place. You shouldn't have to go into debt just to buy a decent mattress, so I started looking for the more affordable options that still offer high-quality support and a comfortable, pain-free sleep.
If you've looked into memory foam, you may be worried about the heat that can sometimes be produced by these mattresses. If you're thinking about memory foam but don't like to feel hot at night, the 12 inch LUCID mattress from Linenspa may be for you.
How this LUCID Gel Memory Foam Mattress Works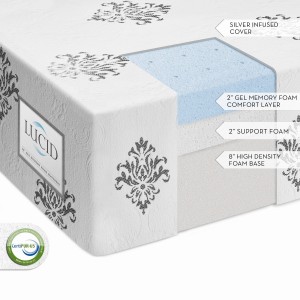 This is one of those mattresses that are layered to take advantage of the properties of different types of foam. At the bottom is an 8-inch layer of high density foam, followed by two inches of support foam in the middle, topped with a 2-inch layer of gel memory foam for comfort. The gel layer has a density of 4 pounds, and the comfort layer's density is 3 pounds.
It's the gel layer that really sets this mattress apart. The layer contains beads infused with gel that capture the excess heat and redistribute it throughout the mattress instead of allowing it to build at the surface.
Comfort
The ventilation foam and the gel beads work together, both to prevent overheating and to make the mattress mold more quickly to your contours. When you lie down on the bed, you won't feel like the mattress is too hard while you wait for the foam to adapt to the shape of your body.
The open cell memory foam also increases the ventilation and prevents the unwelcome denting in the surface that you can sometimes get with memory foam.
This mattress may be too soft for some people, however, so if you prefer a very firm mattress you might not want to choose this one.
Other Things to Consider
This mattress comes in a variety of different sizes, including California King, King, Queen, Full, Twin XL and Twin. Getting the right size should not be a problem!
The mattress includes a protective cover with some unusual properties. The cotton-polyester blend is also infused with silver. You may not be aware that silver acts as an antimicrobial agent, keeping the bed free of viruses and bacteria as well as extending the life of the cover and mattress.
Both the cover and mattress are approved by Certi-PUR, so even if there is some off-gassing in the initial 72 hours while the mattress is expanding, these gases are completely harmless. Only environmentally-friendly materials are used in the manufacture of this mattress. Also, the limited warranty is good for 25 years.
Overview
Check out this mattress on Amazon if you think it sounds like what you're looking for. As I said earlier, a memory foam mattress can cost thousands, but this mattress is much more budget-friendly.