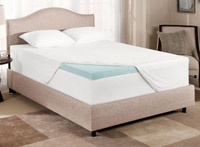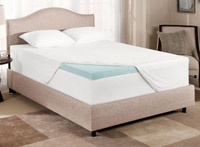 Many of us continue to sleep on our old familiar mattress for years and years, even after it's started to wear out, sag, or just generally cause us discomfort. A lot of people are daunted by the idea of choosing a good mattress, not to mention spending 500 dollars or more for one, even though they many have plenty of complaints about their current model, such as severe back and joint pain caused by insufficient or incorrect support. Some would like to try out latex or memory foam, but aren't able or willing to shell out for a complete mattress. If you are in one of these situations, you might like to try a mattress topper instead.
Top 4 Comparison Table
Mattress Toppers Defined
A mattress topper or mattress pad is simply a thin version of a regular full mattress. Although they are not as thick, they are often made using the same materials used in full mattresses such as memory foam or latex. Most mattress toppers are composed of a single layer about 1 to 5 inches deep, and are placed over top of your current mattress. Your sheets and blankets then go over the new mattress topper. In most cases you can also buy a cover for your mattress pad if you wish.
Who should buy a mattress topper?
First of all, be aware that a mattress topper is an added layer to extend the existing surface of your mattress. Regarding toppers or pads, consumers seem to fall into two groups. Some people really want a traditional thick mattress, consisting of a single unit. That's fine, but obviously buying a whole new mattress is going to cost more than buying just a mattress topper. However, according to surveys, most people who buy toppers are happy to add an extra layer to their current bed and leave it at that for several years. Whatever your own preference is, it can't hurt to know that you have an alternative that can resolve some of your mattress problems without the expense and hassle of buying an entire new mattress.
Ask yourself some of these questions before you make the decision to purchase: Is your existing mattress too soft or too firm for comfort? Is it noisy, worn, sagging or uncomfortable? Do you wake up in the mornings with back pain? Is your budget tight?
If your answer to one or more of these questions was yes, a mattress topper may be a worthwhile purchase. For sure it's the least expensive way to address all of these problems at once. Take a look at this buyer's guide and collection of mattress pad reviews to get some objective information to help you select the best topper for you.
Buyer's Guide
Our goal is to provide solid advice about the most satisfactory and popular mattress toppers available in 2022. When new models enter the market, as they do regularly, we update these reviews. This means you will always be reading about the best and most current available toppers. Here's what you need to know before you shop in order to be satisfied with both the product and the price:
Choice of Materials
One of the advantages of mattress pads is that you can find them made of different materials including memory foam and latex. Latex is usually a more expensive option, but it makes for a very durable product, and if you opt for all-natural latex, it will be hypoallergenic and resistant to dust mites. The springy texture of latex also provides great support, pushing back against your body's contours and providing the best possible spinal alignment. Toppers made of memory foam are the best sellers – they cost less than latex but provide much better than adequate longevity and support. Just like full-sized memory foam mattresses, memory foam toppers use different kinds of foam, such as traditional visco and gel-infused. Both latex and memory foam come highly rated for owner satisfaction; both offer about the same amount of comfort, spine support and motion isolation. Your choice will depend on your budget and your individual needs.
Overall Thickness
Perhaps the biggest factor to consider when shopping is how thick the mattress topper is. Thickness can range from 1 to 6 inches, and it's not hard to see that different thicknesses will have a big impact on how comfortable, long-lasting, and (not surprisingly) how expensive a model is. Generally speaking, the thicker toppers are more comfortable, longer-lasting and more expensive. You will likely get better value for your money and higher satisfaction if you choose one in the 2 to 3 inches range.
Included Cover
With some models, a cover is included when you buy a mattress pad. In other cases, the manufacturer may offer one that is sold separately. You don't really need a cover because the ordinary sheets that you put on your bed should be enough of a cover for the pad. The reason some people prefer a cover is that they are often made from natural bamboo fabric or 100 percent cotton and attractively quilted. They can also be a handy and inexpensive way to combine your mattress and topper under one cover.
Reviews of Mattress Toppers
This incredible product consists of a 3-inch layer of top quality memory foam, a great value for the price that you pay. The viscoelastic foam has a density of 4 pounds and conforms perfectly to every contour of your body for ideal support. This topper will instantly transform your bed, making it more comfortable, supportive and restful, especially in places where it's sagging. This model is a top seller for several online retailers, and verified owner reviews give it a rating of 5 out of 5. We completely agree with this rating; the AllSleep is great for eliminating pressure points which might otherwise cause tossing and turning. You will wake up after a good night's sleep feeling pain-free and refreshed. Overall, we think this topper is likely the best available memory foam topper, and we recommend it highly.
This 2 ½-inch thick gel foam mattress pad is affordable and well worth checking out. Gel is a relative newcomer when it comes to sleep technology, but it has a lot to offer. Unlike traditional memory foam, gel distributes heat after it is captured to avoid the build-up of body heat. This model also includes ventilation to allow air flow, and includes a removable, ultra-soft bamboo cover as an added plus. There are plenty of reasons why we liked this pad, and we think it's good value for the money.
This mattress pad is made of 100 percent natural latex. It's available in pretty much any size: twin, twin xl, full, king, queen and California king. We chose to review the 2-inch thick version, but you can get this topper in 3 and 4 inch thicknesses as well. The naturally antimicrobial and hypoallergenic latex is springy and resilient, providing excellent orthopedic support at the price. You can easily pay in the thousands for a full latex mattress, so having a more affordable option is great for fans of latex.
You should try the mattress pad from ExceptionalSheets if foam or latex is not your thing. This model (Extra Plush Rayon From Bamboo) is a great option for adding an extra silky luxurious softness layer to your current sleep surface. The cover with top-quilted natural bamboo fabric houses the plush, hypoallergenic, synthetic cluster fiber.This pad is available in sizes ranging from split king to crib, and is an overall recommended purchase that is from a trusted US company who promise a 100% no quibbles money back guarantee.
Conclusion
With so many available options these days, it's impossible to cover every single model, which is why we chose to narrow it down to our three favorites and describe what they offer in detail.
Our all-round top pick is the Allsleep. As much as we liked the Gel Pad and ErgoSoft, the Allsleep met all of the criteria to make it the overall winner. It's highly comfortable, and the quality feels similar to that of a full mattress and at a much lower price of course. It offers first-rate orthopedic support, as did the other two choices, but they are priced higher. The ErgoSoft is the priciest of the three, which is understandable because it is made of top-end latex. The Allsleep is also the thickest of the three at a generous 3 inches; this thickness is optimal for providing long lasting relief of pressure points and it won't sag into your current bed. It's unfortunate that it isn't sold with a cover such as the Lucid Gel Pad's bamboo cover, but you can buy one separately if you wish, and it's a non-essential item in any case.
So, if you're looking for an inexpensive purchase that prevents you having to shell out hundreds or thousands of dollars for a full mattress, the Allsleep memory foam topper is a reliable alternative. We gave it 5 points out of 5, and it's our top choice in 2022 and most likely in the coming years as well.